Futurestate design™
Futurestate design™ is built on one core principle: if you only focus on what's in front of you you'll miss your biggest future opportunities. You have to make your future happen.
Customer-led, data-informed design should be your go-to method for everything you're currently doing. Soak up every useful signal you can from your analytics, your customers and your market. Use them to inform everything on your current roadmap.

But don't expect them to open up the big new opportunities that will define your future: the things you need to do as well as, or instead of, the things you do today.

We use futurestate design to unlock these opportunities, from the next generation of your company and its services, to an entirely new generation of products and propositions.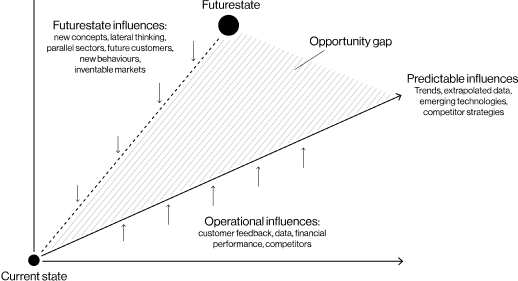 To achieve the big leaps forward, you must activate new behaviours in customers: the things they don't know they want yet. The products and services they didn't know they needed – and now can't live without. And you must reimagine how you operate at every level to build a business that is fit for the future.

The future-making mindset

Futurestate design is at the heart of how we think and work, and it's crucial to the future-making mindset we instil in our clients. It's not a crude framework or a set of rigid tools; it's a strategic thinking discipline and a growing set of practical methods that we use to unlock future potential. It's not speculative, theoretical, or future-fantasy: it's all about using near-future thinking to shape what you do tomorrow.

We use futurestate design to help companies think beyond current constraints; to leave legacy behind and invent on behalf of future customers. We use it to help visualise and realise the full potential of new ideas; to drive real innovation and genuine invention. We use it to help companies make the future happen.

The most powerful aspect of futurestate design? Almost anything you can think of that can shape your future, you can make happen now.
Futurestate design helps you to think beyond current constraints; to move beyond the obvious and invent on behalf of customers.
Engage your team in the future
Futurestate design workshops help everyone to think differently about future potential and become a part of creating what you need to become
Think differently as a leader
Futurestate thinking days for leaders help you de-program your brain from operationally-focused thinking and start to develop a future-making mindset
Envision tomorrow's customer
Future customer modelling uses broad influences research to fuel a behavioural model for the services tomorrow's customers will be receptive to
Invent with new technologies
Turning exciting new technologies into next-generation product models and experience concepts that can open up entirely new areas of growth
Visualise your future role in the world
Futurestate ecosystem and experience visualisation helps you see how your future services will impact your customers' lives and your company's operations
Reinvent to truly transform
Design your future business to reinvent what you are today – your transformation potential is rooted in where you can go, not where you are today
Tell us what you want to become. We'll make sure you get there.