Business Engines
Companies need momentum. In the modern economy, that momentum is powered by digital business engines.
Every new commercial proposition, every new product and every new venture has to be a business engine. In the modern world, almost all of those engines will be digital.

We think of all modern digital services as business engines; they drive market momentum, which for most companies equals growth in commercial and/or societal impacts.

Successful business engines unlock new market opportunities, reach new customers and generate new sources of income. The best enable profound, positive changes to how we live and work, the societies we live within, and the planet we live on.

A coherent way to think about new ventures

We developed the business engine concept to ensure that every dimension of a new service is considered fully and there are no glaring gaps in any aspect of it.

Increasingly, we have found that this model is a powerful way to think about startups (which are usually single-engined businesses). The components we look for are all critical considerations for any new venture; they certainly don't all have to be perfect on day one, but the more a service leader or founder is conscious of these dimensions, the more rigorous and considered their decision-making becomes.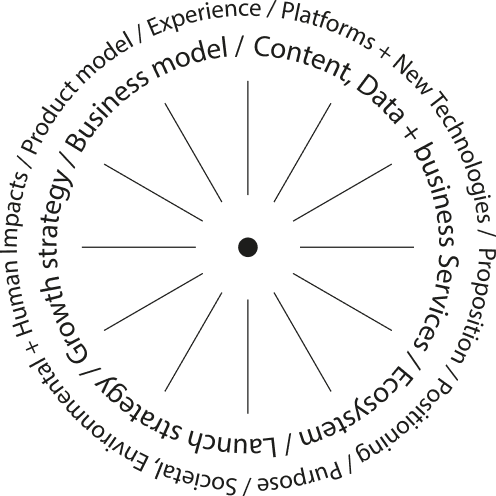 To be worth making (ROI) any new engine has to offer customers something new (a compelling proposition) that they want to buy (distinctive positioning). It needs a clearly understood reason to exist (purpose) and role in the world (societal, environmental, human impacts).

It needs to be designed to deliver new forms of customer value (innovative product model) and it must be easy for customers to get that value from it (world-class experience). It needs to be built with the simplest and best possible components (proven platforms + new technologies) and run on the right fuel (content, data and business services).

It needs to take advantage of, and provide value to, a broad commercial landscape (ecosystem). Finally, it needs to start first time (launch strategy), accelerate smoothly (growth strategy) and generate plenty of energy (a smart business model).

Within each of these building blocks are many smaller elements that need work. Too many good ideas fail to become successful innovations because they don't get all the moving parts to work together.

They fail because of a lack of holistic, future-focused thinking.

Our business engine model isn't a template or a set of rules: it's a useful reference point – a way to ensure that all of the moving parts of a new service or venture are considered coherently and holistically.
More reads
If you always think in the same way, 
you'll always end up in the same place.
Guiding principles
Article
Thinking in leaps
Article
The best thing you've done hasn't been done yet.