About us
Our story? We've been making new ideas work for 20 years. In that time, we've worked with over 150 organisations, in 10 countries, delivering over 350 successful programmes.
Futurestate Design Co. is the business innovation company owned by Mark Wilson and Stephanie Fletcher. Founded as Wilson Fletcher in 2002, we became Futurestate to mark our 20th anniversary.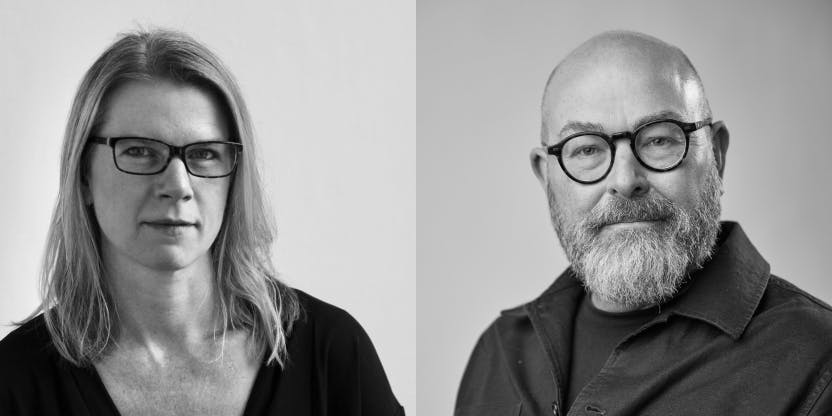 Since day one, our work has been focused on helping companies drive innovation-led growth. We've shaped future visions and strategies to help organisations all over the world become something new, and designed hundreds of new and next generation digital products, services and propositions.

Innovation-led companies will power the economy for decades to come. The leaders will enable new ways to live and work. They'll change the societies we live in and make the planet(s) we live on better.

Our mission is to help as many of those companies as we can succeed.
Reinventing ourselves
After nearly two decades operating as a boutique consultancy we recognised that the increasingly diverse needs of the companies that wanted our help – all now operating in a radically different post-pandemic world – could be much better served by a new approach.
So we reinvented ourselves as a fractional consulting company, able to support companies at all stages of their lifecycle with the targeted, specialist expertise they need when they need it. You can read more here about what we do and how we operate.
We rebranded to Futurestate Design Co. to make manifest our focus on designing the future of companies, services and products. We were already closely associated with futurestate design™ as our approach to business innovation, and the release of Mark's book just cemented that association. It was a natural step for us to become Futurestate Design Co.
We set six key principles for our futurestate:
Make top-tier expertise accessible and affordable to any company, irrespective of their size or age.
Focus exclusively on helping companies achieve 'leaps', whether that's a startup with a big idea or an established name that needs to reinvent itself for the future.
Achieve outcomes with expertise, rejecting all unnecessary methods and frameworks that inhibit achieving the highest value outcomes and bloat the effort required to achieve them.
Leverage a growing network of the world's best practitioners who want to work on interesting challenges without traditional organisational constraints (including us).
Build our commercial success on the aggregate value of diverse, aligned-incentive relationships – to avoid the deeply misaligned interests inherent in traditional consultancy/agency models.
Build the overall potential for innovation to deliver positive impacts in the world by growing the capabilities of every individual and company we work with as much as we can.
These are the guiding principles for us as a company. Our manifesto is a set of guiding principles for our work.
Our clients
We've learned our craft by working with smart, progressive thinkers in a diverse family of companies worldwide.
If that sounds like you, we'd love to talk.
You'll be in great company
Some of the companies we've worked with...
AA cars
ABC
Associated Press
Axa Health
Bauer Media
BBC
British Film Institue
BT Sport
FSCS
Collinson
DK
Experian
Hearst
JATO
S&P Global Platts
Lexis Nexis
Lloyds Banking Group
S&P Global Platts
Travel Republic
MetService
News Corp
The New Zealand Herald
NZZ
NHS
Penguin Random House
Publica
Sky News
Spotlight
The Times & Sunday Times
The Telegraph
Travel Republic
Everyman
Which?
Waitrose
Bristol City Council If you aim for nothing, you'll definitely hit it.